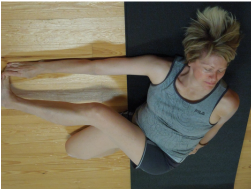 We all have an individual way to hold our body, our own unique movements.
Our body is the reflection of our subconscious, of our deepest stored memories and feelings.

When we go through difficult situation, strong feelings are created and these feelings manifest as a certain body posture which reflects: sadness, anger or stress.

If this situation was very powerful or repeated itself many times, our brain, as a coping mechanism will create brain connections to help us deal with this type of situations that may arise in the future. This wiring of our brain will manifest as body postures which will become our permanent, unique posture and way of movement.
So we end up with a permanent sad, angry closed or stressed posture that just deepens over the years of our existence in our body.

One of the ways to deal with this vicious cycle is Hatha yoga.
Since the result of our stored subconscious memories are reflected in our body, in the way we move and hold our body, this amazing practice comes and says that if we learn to pay close attention to every posture and every fine detail of our movement, we could discover the tension in our mascles and by releasing this tension we release our brain connections that created that tension and eventually notice our old feelings and memories which are the source, the beginning of these inhibitions.

The main keys of the practice is the slow movement, attention and deep breath.

Moving slowly so we could pay close attention NOT to how far we go, but to the existence of tension. When tension is recognized we stop regardless of how far we moved. Then add a very important element: deep slow breathing that will eventually melt the tension away.

Compensation is another obstacle on our path to release tension. Compensation can not only lead to an injury but also cause us to avoid the real tension, it let us by pass the brain connection, that subconscious memory that could have been released if we have dealt with the tension.

Hatha yoga invites us on this journey inwards, handing us the tools of awareness and breath so you could discover and let go of these old inhibitions to simply live more joyful life.