Dance Meditation - Friday, December 15 6:30pm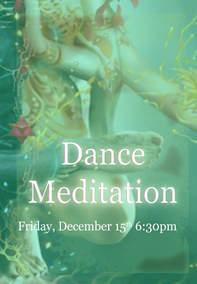 Dance meditation is a guided movement improvisation session, where we explore body expression through free movement.
We will be visiting different energy centers in the body (Chakras) and find a way to stimulate and activate them through Yoga techniques and dance mantras. Dance meditation is a no judgment zone. Where the more you direct your attention inwards, the more you deepen your experience and contribute to the group. It is never about how it looks and it is always about how it feels.
Friday 12/15 6:30-7:30pm Given by Radha Fee: $20
Click here to sign up
---
Bharatanatyam - Classical Indian Dance
This dance video has two parts: The first Bharatanatyam piece describes Lord Siva's grace and grandeur when he is dancing the ananda tandava. His eyes flashing, his anklets ringing, his drum playing and his dread locks open and flowing. Adorned with snakes , wearing tiger skin and with the moon on his head dancing the cosmic dance of creation. The second part is a free style dance ornamented with Bharatanatyam posses and Mudras - hand gestures praising the great lord of dance - who creates destroys and maintain the universe with his movements.